Boris Jefimowicz Niemcow (ros. Борис Ефимович Немцов, ur. 9 października 1959 w Soczi, zm. 27 lutego 2015 w Moskwa) – rosyjski polityk. Działacz demokratyczny, opozycjonista i obrońca praw człowieka.
Rodzicami Borisa byli Jefim Dawydowicz Niemcow i Dina Jakowlewna Niemcow (z domu Ejdman). Matka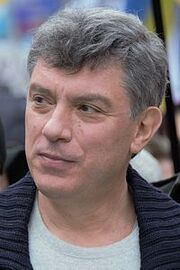 jest Żydówką.
Z wykształcenia fizyk, ukończył Państwowy Uniwersytet im. N. Łobaczewskiego w Niżnym Nowogrodzie. W latach 1991–1997 pełnił funkcję gubernatora obwodu niżnonowogrodzkiego. W 1997 zajmował stanowisko ministra paliw i energetyki. W latach 1997–1998 był wicepremierem rządu. Był liderem partii Sojusz Sił Prawicowych oraz współzałożycielem Republikańskiej Partii Rosji – Partii Narodowej Wolności. W 2008 r. kandydował na urząd prezydenta.
W latach 2011-2012 współorganizował w Moskwie protesty po wyborze na prezydenta Władimira Putina i kontrolowaną przez niego w wyborach parlamentarnych partię Jedna Rosja.
Był zwolennikiem liberalnych reform gospodarczych oraz przeciwnikiem aneksji Krymu przez Rosję.
27 lutego 2015 został zastrzelony w centrum Moskwy przez nieznanych sprawców. Jego pogrzeb odbył się 3 marca 2015 na cmentarzu Trojekurowskim w Moskwie.
Ad blocker interference detected!
Wikia is a free-to-use site that makes money from advertising. We have a modified experience for viewers using ad blockers

Wikia is not accessible if you've made further modifications. Remove the custom ad blocker rule(s) and the page will load as expected.